Mustang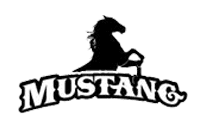 Mustang:   Taking the lead!         Innovation – Design – Selection
Toowoomba Saddlery is excited to make a select range the of Mustang cinch girths available to Australians stores.
Quality, fit, durability and affordability are the hallmarks of Mustang products. A family owned and operated business manufacturing tack items in Texas USA for over 35 years.
Each cinch is handcrafted and inspected to ensure accuracy and durability.
Mustang Manufacturing prides itself on offering the highest quality product for the best value.