HOW TO MEASURE A TOOWOOMBA SADDLERY SADDLE
One of the most common saddle questions we hear is "Which saddle size do I need?"
When answering this question it is important to know how the saddle is being measured.
To help you better understand Toowoomba Saddlery saddle sizes we have prepared a brief guide.
Skip to: Saddle vs Seat Size | Size Comparison | Saddle Parts | Other Measurements | Fender Length
You may already know that Western style and Australian stock saddles are measured differently to English style saddles. It is also worth noting that some saddleries may take their measurements from different points on the saddle.
Saddle Size vs Seat Size
Toowoomba Saddlery's saddles are available in up to 5 saddle sizes. These diagrams and table should give you an idea of how each saddle size compares to the seat size and saddle length.
Saddle Size Measurement
Measure from front-most part of the pommel to inside back seat.
Seat Size Measurement
Measure from the back of the pommel to inside back seat.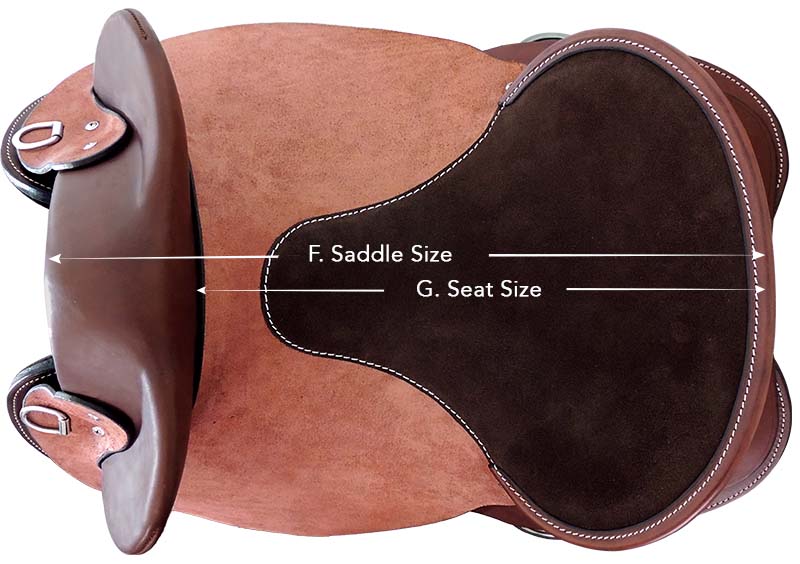 Comparison Chart
INTERACTIVE: Select a saddle size from the box to see the relative saddle size and length.
(A) SADDLE LENGTH
21″ (53.4cm)
(C) SEAT SIZE
11.5″ (29cm)
See the saddle size conversion information as a static chart
| (A) Saddle Length | (B) Saddle Size | (C) Seat Size |
| --- | --- | --- |
| 22″ (55.9cm) | 14″ (35.5cm) | 11.5″ (29.0cm) |
| 23″ (58.4cm) | 15″ (38.0cm) | 12.5″ (31.5cm) |
| 24″ (61.0cm) | 16″ (40.5cm) | 13.5″ (34.0cm) |
| 25″ (63.5cm) | 17″ (43.0cm) | 14.5″ (36.5cm) |
| 26″ (66.0cm) | 18″ (45.5cm) | 15.5″ (39.0cm) |
---
Parts of a Saddle
A. Pommel
B. Kneepad
C. Cantle (The raised curved part at the back-top of the seat)
D. Seat Flap
E. Fender
Saddle Measurements
H. Seat Dip Measurement
Can be measured by placing a ruler or straight edge on pommel and top of cantle. Take measurement from this ruler to the lowest point of the seat.
I. Kneepad Height Measurement
Measure from the base of the kneepad to highest point of knee pad.
J. Chamber / Gullet Width Measurement
Measurement taken from the saddle tree (for consistency).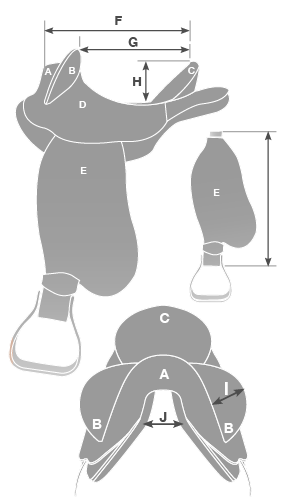 ---
Saddle Fender Length
The benefit of removable fenders is that you can easily source spares or replacements as well as being able to mix-and-match saddles with fenders for a better fit. E.g. For a child with long legs you could purchase a youth-size saddle, then replace the standard youth size fenders with an adult size pair.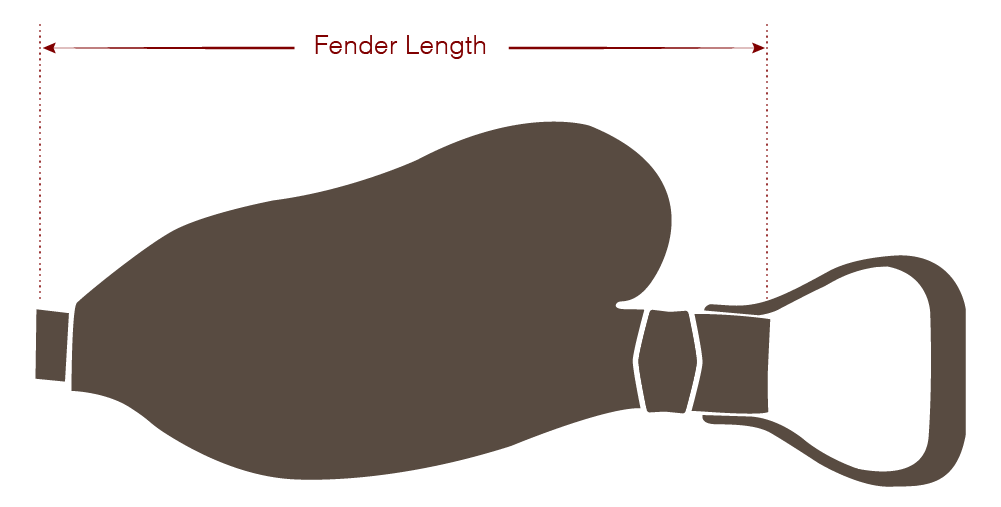 Standard adult size saddles fenders: Adjustable from approximately 19" to 26" in length.
Shortened adult size fenders: Adjustable from approximately 17 ½" to 24 ½" in length.
Standard youth size saddles fenders: Adjustable from approximately 14 ½" to 18 ½" in length.
How we measure fender Length
Measure from the top of the webbing (where it hooks over the stirrup Bar) to the bottom of the leather.
Spare saddle fenders are available, and supplied by the pair.
Click here to view fender options ►
---
Ready to compare saddles? View all Toowoomba Saddlery saddles ►