Celebrating over 50 years of growth
The history of Toowoomba Saddlery
In August 2018 Toowoomba Saddlery celebrated 50 years in business.
We'd like to extend a big thank you for all the saddlery stores, saddle makers, and riders that have chosen Toowoomba Saddlery products. Follow our history to see how we got to where we are now.
---
Toowoomba Saddlery was founded and established by Garth and Sandra Delbridge in 1968 in a timber double garage located behind their house at 227 Taylor Street Toowoomba.
The foundation of the business was producing leather strapping for Butler Brothers in Brisbane as well as saddle repairs.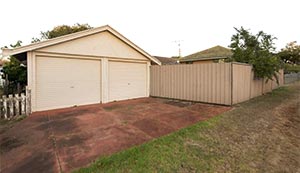 When Toowoomba Saddlery first opened there were more than nine saddleries in Brisbane including Blair Saddlery, Butler Bros, C.A. Stephan, Edward Butlers, Schneider Saddlery, Syd Hill & Sons, Theo Dalton, Uhl Saddlery and Wrights Saddlery as well as six in Toowoomba and many private saddle makers that worked from their homes. There were also many tanneries in the Brisbane area tanning leather for the saddlery market including Fulcher's Tannery, Gibson Tannery, Granlund's Tannery, Johnson Tannery, Maggs Tannery, Packer Tanning, Pills Tannery, Slayney Tannery while Toowoomba had Coonan's Tannery.
Today, Packer Tanning at Nerangba is the only tannery that remains operational. In 1969 leather strapping and repairs remained the backbone of the business, however with growth it became apparent that a retail premises was required, so a house and disused chemist shop was purchased at 60 Anzac Avenue Toowoomba. In 1969 Mr Robert (Bob) Edwards became the first employee and apprentice at Toowoomba Saddlery.Back then a saddlery Tradesman's pay was $58 per week and a first year apprentice was only $10.85 per week. It was a forty hour week with only two weeks annual leave. The saddlery apprenticeship back then lasted five years.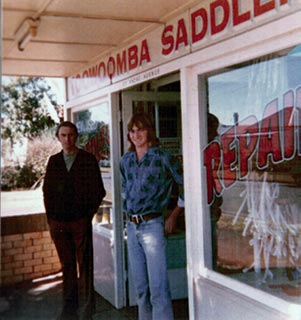 The Syd Hill Era
The business grew and an agency for Syd Hill and Sons Brisbane was established. The sales of both the new Syd Hill Saddles and leather strapping increased at such a rapid rate a brick shed was constructed behind Garth and Sandra's house in 1974 just to store the saddles.
During its agency for Syd Hill and Sons from 1973, until 2010, Toowoomba Saddlery sold in excess of thirty-five thousand Syd Hill Saddles. The wholesale price for a new Syd Hill Barcoo Poley in 1973 was $210 and a side of saddle leather from Johnson Tannery was $15 per side.
By 1977 the business was growing at such a rapid rate a vacant block of land at 106 Hill Street, Toowoomba was purchased and a 430 square metre retail shop, offices, warehouse and factory was built. Demand for Syd Hill products was increasing and two to three hundred brand new Syd Hill saddles were carried in stock for immediate despatch from the Hill Street premises. Toowoomba Saddlery continued to do repairs and some leather strapping manufacturing.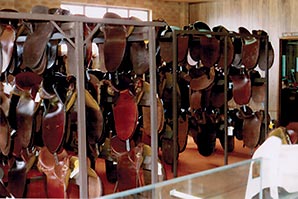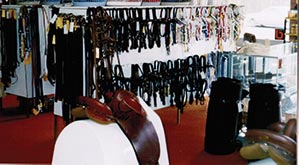 In 1979, the vast distances in Australia were no longer practical to travel by road, which saw the need for air travel, and Garth obtained his pilot's licence as well as a brand new Cessna 172 aircraft, this really opened up Toowoomba Saddlery to the remote parts of Australia. Travel was now possible by air to locations such as Alice Springs, Tennant Creek, Katherine, Darwin, Kununurra, Broome, Derby and more.
Australia now had it's own flying saddler.
Due to the long distances (some of which had to be flown at night) a twin engine Beechcraft Travelair was purchased in 1982. This aircraft was faster than the Cessna 172 and carried more fuel which made travel from Toowoomba to Darwin possible in ten hours with one fuel stop as opposed to four full days by road. In 1986 a more modern, even faster six seat Cessna 210 Centurion was purchased to cover these long distances.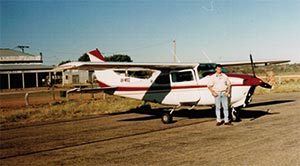 Toowoomba Saddlery – Leather Supplier
1991 The Hill Street shop was more than doubled in size to 900 square metres. In 1992 Toowoomba saddlery became an agent for Wintan Tannery, Located at Wingham NSW. The agency for Wintan was in place until the close of the tannery in 1997. This agency was the beginning of another growth phase for Toowoomba Saddlery, emerging as a saddlery supply merchant. As Toowoomba Saddlery was now seen as a supplier to manufacturers in the saddlery trade, we needed hardware and raw materials. A trip to Taiwan was made and distributorships established for the manufacture and supply of saddlery hardware and raw materials. We are still purchasing from these companies to this very day.
Demand for quality saddlery leather was increasing so in 1994, with many tanneries in Australia closing, Toowoomba Saddlery was appointed as a distributor for Hermann Oak Leather Company, USA. This distributorship is still in place today. We could not believe how popular this leather was!Our first shipment was only two pallets, which sold virtually as quick as it was unpacked. We then realised that the only way to seriously import this quality leather from the USA was buy full container lots. First a couple of twenty foot shipping containers were imported from Hermann Oak, now forty foot containers are regularly imported.
This now did present one problem – storage space. It was evident that the 900 square metre warehouse in Hill Street was now outgrown and a new warehouse had to be found, so the search was on.
A brand new 1400 square metre warehouse and office complex was purchased at 266 – 268 McDougall Street, Toowoomba in 1994. Continued growth saw the addition of a 600 square metre mezzanine floor for increased storage area in 2008 which was expanded in 2011 for the same reason.
Having been a part of Australia's manufacturing industry for many years, it seemed fitting to recognise this in 2006 by becoming a member of the Australian Made Campaign, which allowed us to use the official Australian Made logo on our Australian made products.
By 2012, Toowoomba Saddlery was importing more than sixty-four tonnes of leather each year and supplying 1200 stores and saddlers throughout Australia. To keep up with demand Toowoomba Saddlery took delivery of a custom-made leather cutting press from Taiwan.
Over fifty years, Toowoomba Saddlery's range has expanded to include synthetic tack and other products.
We have also leveraged our overseas contacts to import select lines of quality tack and accessories. But we still continue to make our Australian Made leather saddles here in Toowoomba, of which we sell around 750 each year.