Description
27 Strand Bamboo fibre girth. Double woven with nylon wrapped centre, leather reinforced bars and billet pocket. 3″ flat buckles and 1″ centre dees. 4 sizes available.
Roper style: A flared girth shape that widens out in the middle, spreading the pressure of the girth across a wider area in order to provide more comfort for your horse.  This can be useful in roping, stock work, trail riding and similar activities.
Cord girth /string girth:
a traditional western style of girth. The strings that make up a cord girth can move and act independently of one another for better fit and saddle stability.  Space between the strands creates airflow, allowing sweat to dry.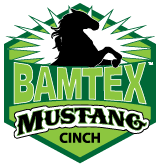 Mustang Bamtex™ Bamboo cinch Cord
Stronger, Softer and Stays in Place
Bamboo is a truly innovative textile to be used in the equine industry made from bamboo stalk fibres. Bamboo fibre is not only extremely soft and comfortable; it is the strongest cinch cord available! the Bamtex™ cinch will stay in place and not stretch out after use.
Bamtex™ advantages: Antibacterial, Natural Wicking (pulls moisture away), Natural UVA protectant, Hypoallergenic.
These Bamtex cord girths are hand crafted in the USA by Mustang and fitted with stainless steel hardware.
Toowoomba Saddlery is now the exclusive wholesale distributor of these Mustang products for Australia and New Zealand.