Equi-Fit Classic Saddle Trees
Equi-Fit® Saddle trees have been manufactured in the USA since 1848. They are manufactured using state of the art machinery to maintain accurate consistency from tree to tree. The tree is cut from specially selected southern yellow pine then reinforced using a composite meshing and resin coating so they are strong and lightweight.
The business is now in its 5th generation and is still 100% owned by the Steele family. Toowoomba Saddlery has an excellent business and personal relationship with the Steele family. We visit their plant in Nashville USA to discuss the ongoing development and the quality of the saddle trees for the Australian market. Not only does Toowoomba Saddlery sell the Equi-Fit® saddle trees which are used by many saddle brands, we use these saddle trees in our regular production of the Toowoomba Saddlery branded saddles which are sold in Australia and also exported internationally.
Equi-fit Saddle Tree Strength
In 2019 we put our Equi-fit saddle trees to the test and with results like this it's no wonder they are backed by a 10 year conditional warranty.
Stirrup bar strength test: Increasing pressure was applied to both sides of the saddle tree on the stirrup bars. As the load increased, we monitored the tree and stirrup bars for damage.
RESULT: Test stopped at 875k – no movement whatsoever, no visible damage to the tree.
Gullet strength test: The saddle trees were literally tested to breaking point with increasing pressure being applied to the pommel until the tree failed.
RESULT: The Equi-fit saddle tree withstood an impressive 1710kg of force before caving.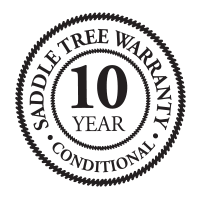 The Equi-fit Classic saddle trees supplied by Toowoomba Saddlery are backed by a 10 year conditional warranty. This warranty covers breakage and distortion of the saddle tree from normal use. This warranty will not cover accidental damage, misuse, intentional abuse or any alteration from its original shape.
---
Equi-Fit® Saddle Trees stages of production
Lumber is stored in a controlled environment out of the elements until it is ready for the saw shop.
The lumber proceeds to the saw shop where the manufacturing process begins.
Computer assisted machines assist with the correct cutting and shaping of the lumber.
Multiple duplicating machines speed up production while maintaining uniformity of the cut pieces.
The correct cut pieces are then carefully placed in their corresponding pattern jigs and checked to further ensure uniformity.
The trees are then coated and stored in a controlled environment before being sent to the finishing plant.
The reinforcing composite matting being applied to the saddle tree.
Saddle trees packed ready for shipping to Australia.
A shipping container full of saddle trees arrive at the Toowoomba Saddlery warehouse.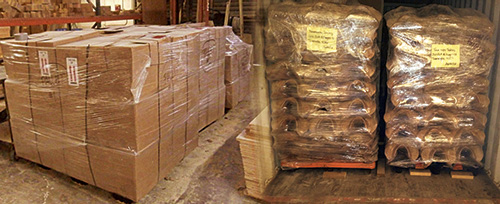 Are your saddles made on an Equi-fit Classic Saddle Tree?
Equi-fit Saddle Trees supplied by Toowoomba Saddlery
Click on a saddle tree below to view its specifications.