Toowoomba Saddlery Historical Archives
A lot has changed since Toowoomba Saddlery was first started in 1968. Every so often we come across something to remind us of 'the good old days' and we are pleased to share with you these nostalgic stories and memorabilia from our time in business.
QUICKLINKS
Historical Catalogues | Racing Whips | 1970s Barcoo | 1970s TV ads
Race day flashback
In the lead up to the Melbourne Cup 2021 we found this: a Toowoomba Saddlery racing whip, circa 1970s.
Did you know that for over 30 years, Toowoomba Saddlery was one of the few Australian makers of jockey race whips? Selling over 120,000 whips to buyers in Australia and around the globe. Each fibreglass whip took 17 steps to make, could be assembled in just 6 minutes and each one had to be exact. We no longer make or supply jockey whips and the whip pictured is over 45 years old – a small momento from our time supplying to the racing industry.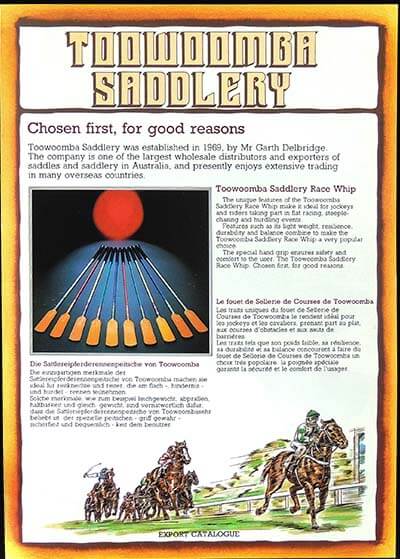 ---
Blast from the Past
February 2022: We were recently given a saddle that was originally sold from our Anzac avenue showroom back in the 1970s. The owner has now, sadly, passed on and after many years sitting in a shed it has come back to us, along with the original receipt and some of our old promotional material.
From the receipt, we know that this Australian Made Nothern Barcoo Poley saddle sold for $325.00 in 1977. In today's market, a similar style saddle would cost you over $3000 brand new.
The Barcoo series of stock saddles were very popular in their day. The Northern Barcoo varied slightly from the standard Barcoo with its higher 'Northern' style kneepads. We do not have a photo of the Northern Barcoo saddle in its prime, however in the old (late 1970s?) black and white catalogue that came with it you can see a line drawing which even shows the tooling design that has all but disappeared on the saddle we have here.
In 54 years, Toowoomba Saddlery has sold over 40,000 saddles. Discoveries like this make us wonder what journeys they have all been on and where all those saddles are now.
This saddle was kindly donated by Sarah Edwards, wife of the late Calum Edwards – the saddle's original owner.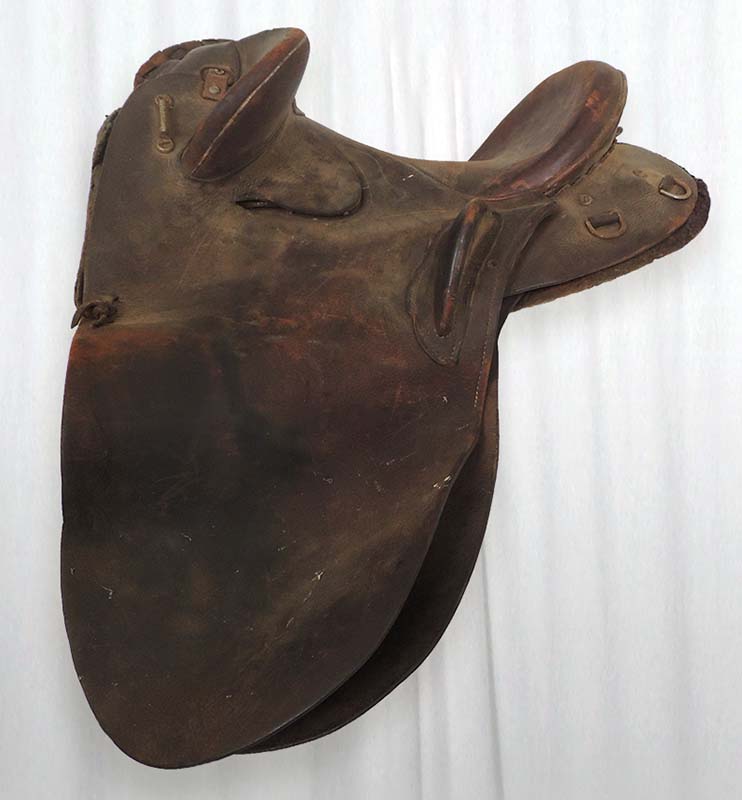 ---
Historical Saddle Catalogues
These catalogues are displayed for historical interest only. The saddles and other products listed are no longer available for sale.
This black and white saddle catalogue is estimated to have been published in the late 1970s and includes descriptions and images of over 70 saddles from a variety of disciplines. It includes stock saddles, dressage saddles, roping saddles and more.
Estimated to have been published around 1980. One of Toowoomba Saddlery's first, full colour saddle catalogues with 24 Australian Made saddles presented in full colour.
---
1970s TV advertisements