Description
The number two youth tree is a semi-quarter horse saddle tree for youth saddles.
This saddle tree is used in our Youth Fender and Junior Drafter saddles.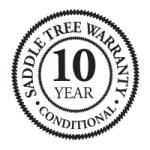 Manufactured in the USA, Equi-fit Classic saddle trees are cut from specially selected southern yellow pine then reinforced using a composite meshing and resin coating so they are strong and lightweight. They are also designed for close contact and backed by a 10 year conditional warranty.
The conditional saddle tree warranty covers breakage and distortion of the saddle tree from normal use. This warranty will not cover accidental damage, misuse, intentional abuse or any alteration from its original shape.