HOW TO CARE FOR YOUR TS LEATHER SADDLE
At Toowoomba Saddlery, we craft our saddles with durability in mind.
With proper care, your Toowoomba Saddlery saddle will provide many years of service.
Frequently Asked Saddle Care Questions
Do I need to oil or condition my new saddle before I ride in it?
Toowoomba Saddlery recommends a light initial oil prior to your first ride (avoid over oiling) to protect the leather from the elements. It is normal for the leather to slightly darken after oiling.
How often should I oil or condition my saddle?
It depends… but as a general rule you should oil your saddle before your first ride, and perhaps every 2 – 6 months there-after depending on how often you ride and your climate. If you ride in very dry or very humid conditions, you may need to oil or condition your saddle more often.
How often should I clean my saddle?
Wiping down your saddle after every ride is a good habit every rider should establish. As with conditioning, how often you perform a thorough saddle clean depends on how often you ride and your climate.
How do I care for rough-out leather on a saddle?
Once dry (after cleaning), you can lightly brush rough-out leather with a stiff bristle brush to give it new life.
You oil rough-out and smooth-out leather in exactly the same way.
NOTE: Toowoomba Saddlery does not pre-oil suede or rough-out leather on our saddles prior to dispatch as some riders prefer to use them without oil, to increase the grip this leather finish provides.
How do I care for a suede seat on a saddle?
Suede is a split leather, thinner than full grain leather and as such requires a little more maintenance. Over time, with the constant friction of riding and cleaning, the nap can 'slick' down, however as with all leather products, proper maintenance will extend its life as much as possible.
You can pre-treat with waterproofing and stain preventing spray before the suede is used.
Regularly remove surface dust and refresh the nap with a nylon bristle brush (similar to a nail brush). Raising the nap helps remove dirt and debris trapped between fibres and keeps the grippy texture. For heavier soiling, clean gently with soapy water and brush. Try not to oversaturate. For stains, you can try a 'suede eraser' which acts similarly to an eraser on pencil-marks.
---
CLEANING YOUR LEATHER SADDLE
We recommend Oakwood or Joseph Lyddy saddle soap.
Scrub with luke-warm (not boiling) soapy water using a soft brush or cloth.
Rinse well with clean water.
Wash the felt lining in the same way.
Allow your saddle to dry in a well ventilated shaded area (NOT in direct sunlight).
When completely dry, you can re-oil / dress your saddle.
---
OILING YOUR LEATHER SADDLE
We use and recommend Oakwood Leather Oil, or Joseph Lyddy Neatsfoot Oil.
Ensure the saddle is clean and dry.
Apply the oil all over the saddle, use a clean paint brush to cover hard-to-reach areas, and a soft cloth or sponge for the larger areas.
Give the oil some time to soak in (around an hour).
Wipe off the excess with a clean, dry cloth.
---
CONDITIONING YOUR LEATHER SADDLE
Always use a quality leather conditioner.
We use and recommend Oakwood Leather Conditioner.
Ensure the saddle is clean and dry.
Apply first with a brush to get into all the crevices.
Rub over the larger areas in a circular motion with a sponge or soft lint-free cloth.
Buff the leather with a soft, dry cloth.
Once conditioned, the leather can take 24 – 48 hours to fully dry.
SADDLE CARE DON'Ts

NEVER WASH YOUR SADDLE WITH BOILING WATER !
Leather is the same as our skin, if the water is too hot for our bare skin, it is too hot for leather. Many times, we have seen where very hot water has been used on saddles (mainly to shape fenders and the like), destroying the leather surface.

NEVER OIL A WET SADDLE!
This can trap moisture in the leather, potentially leading to mould or rot.

NEVER USE HOT OIL !
This will damage the leather.

NEVER USE MINERAL BASED OILS
e.g. engine/motor oil etc… as this will dry the leather out.

NEVER DRY YOUR SADDLE WITH DIRECT HEAT!
This includes blow-dryers, heaters and direct sunlight. This can shrink, harden and crack the leather.

SADDLE CARE DOs

DO USE ONLY TEPID WATER
when cleaning your saddle.

DO CLEAN & OIL YOUR SADDLE REGULARLY!
If the leather dries out you risk decreasing the life of the product.

DO PERFORM REGULAR GEAR CHECKS !
Check your girth, girth points, stirrup leathers and bridles. Only use a reputable saddler for repairs.

DO LET YOUR SADDLE DRY NATURALLY!
in a well-ventilated, shady area.
Ongoing Saddle Care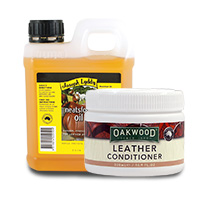 Both Oakwood and Joseph Lyddy leather care products have a long history in Australia. Make them part of your regular leather care regime to get the most out of your leather products.
View our leather care products ►
---