Nemeth Whips Australia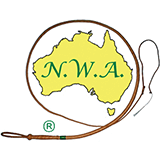 Nemeth Whips Australia is synonymous with quality stock whips and bull whips that are both well balanced and durable.
This family owned business has been in the saddlery / whip making business since 1850.
All Nemeth whips are hand crafted from Australian redhide and Kangaroo hide leather. These whips are used by stockmen and stockwomen on the land, and also supplied as souvenirs to tourists throughout Australia and overseas.
Nemeth has a commitment to quality, durability, and services which has resulted in their Whips being the current Number One Selling Stockwhip in Australia.